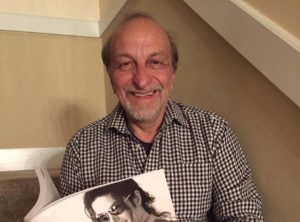 .
John Luongo
The republication of some of the Jacksons albums is very rare, unfortunately, and one has to recognize the value of the 2008 releases of both the Destiny and the Triumph albums, especially as they contain some of John Luongo's mixes. His alternative versions of Blame It On The Boogie, Shake Your Body and Walk Right Now allow vinyls's collectors to delve into the era of the first 12-inch records. In order to do so, I couldn't think of anything better, other than talking to the talented DJ and producer. I also want to thank my friend Dams Pap who helped me get this John Luongo's interview ready through passionate conversations so that he would tell about his numerous memories.
First of all, can you tell us how you grew a passion for DJing and remixing, and eventually started a career? Can you give us an insight into your debuts in this field?

I grew up in Boston, Massachusetts and have always loved music. I would listen to all different kinds of music on the radio and I was interested in the sounds of each recording I heard – I loved Rock and Roll, R&B, Funk, Jazz, Pop and just about anything that came up on the radio as long as it was interesting and sounded great! It didn't really matter whether it was a ballad or up-tempo song because they each affected me in different, unique, interesting and positive ways. One day, while channel surfing on my little FM radio, I came across a black station that only came on at twelve o'clock at night on FM Radio and was staffed by great talented black students from MIT (Massachusetts Institute of Technology). The show was only on for three hours but was so refreshing and had no set playlist so it filled a big need in the music community as the only other major station in town that played any R&B was an AM station called WILD and they went off the air at 7PM every evening due to broadcasting restrictions they had from the FCC, and would not return to the airwaves until about 8 or 9AM with Gospel for the first hour to fill a community obligation. WTBS FM on the other hand was a College Station in the basement of one of the buildings at MIT and was one of the only places, outside of a few other college stations, where you could actually hear uncensored great and non-commercial R&B Music.

The show came on at 12PM and was called "The Ghetto" with that also being their theme in honor of the great Roberta Flack and Donny Hathaway song by the same name. It was a great format and it was all hardcore R&B – The Ebonys, The Last Poets, The Moments, Whatnauts, Mandrill, The Escorts and so many more great groups and music were all played… so interesting and at times, obscure and wonderful. I used to put my mono earphone in my ear and sleep with the sheets over my head so my parents would come in the bedroom and not know that I was listening because they wanted me to go to bed for school! Guess I was brainwashed into loving and understanding the music at an early age. (laughs) So I would fall asleep listening to this music and I think subliminally I ended up having a really great knowledge of it and an amazing impact on me and my future in music taste and direction. I was not thinking of following a career in music when I first chose a career path – in fact, I went to a college called Northeastern University in Boston, to become an industrial engineer and then later I switched to Mechanical, finally settling on Civil Engineering. While attending the school, you had a chance to sign up for the radio station so you could play records throughout the school via the inter campus broadcast which reached every area of the campus. It was quite cool in that everyone who attended the school could hear it when they ate or were hanging out between classes. You weren't allowed to talk – all you could do was play the music and say 'WNEU' – that was it. So I played Deep Purple, Jimi Hendrix, the Beacon Street Union and ELP, all of which were prominent at the time. I was hooked and became more of a music junkie by the day ! It was becoming apparent that my education was taking me in one direction but my heart was slowly following a different direction.

One day my friends and I were taking a break from a boatload of schoolwork and decided to go and chill out. We walked over to a place on Beacon Street, in Boston, which if you ever watched the TV sitcom Cheers, is a real place called the Bull and Finch Pub – which was not exactly as it is on the sitcom, but more of an English Pub and dart establishment. This pub was in the basement of the building down a level from the street, but upstairs on two floors above it was a club called The Townhouse and I just happened to walk upstairs with my friends as we heard music playing from an old judges chambers/library that was completely empty. There on a wooden pedestal, some 3 feet in the air, was a disc jockey playing music so we started looking around the place, enjoying the music. I got some courage up and approached the DJ booth saying to the DJ, "This is great! My name is John Luongo and I am a DJ at Northeastern University. I would love to do this!" So as we were about to leave, I walked up to Peter, the DJ, and I gave him my name on a match box as I said to him, "If you ever need anybody to fill in at some point, please, let me know!" Two weeks later I got a phone call from the manager Jim who said : "Peter, the disc jockey, has left and he gave us your number as somebody he said could take over for him." (laughs) I, of course said, "YES! When do you want me?" to which he answered, "We need you this Friday, so please get in here a day or two before, to discuss things!" In my mind, I thought, "Oh, God! What the hell have I done now?"

Now in a panic, I went to a local record store called Everett Music located in Everett, Mass, the town I grew up in and I bought all kinds of records – The Isley Brothers, Billy Preston, Motown records, Crazy Elephant, Mitch Ryder and anything I thought that would be danceable and entertain an audience of dancers. My next stop was to go to the club where to my horror, I discovered there was no cue system there, which means you could either play the left turntable or the right turntable but when you wanted to hear something you could not do it in audition to hear what you were going to play over the sound system in the club! GREAT!!! This is a real No-No and impossible as any DJ will tell you. You could play both turntables together but the problem was there was no headset cue so you could not hear what you were doing when auditioning a new record that you wanted to play as one was already playing. Talk about pressure!!! I was forced to go into the club early and take my records and a black magic marker as I devised a system that would allow me to overcome my obstacles in playing music. I would turn the volume up and push the record around on the turntable until I heard the first «ksh-ksh» sound of the recording that I wanted to play. At that point, I would place a mark on the label and go back a little bit, about a quarter turn, so I'd know what would play once I hit the start button on the turntables and the music came on in one second. I knew when I heard the first «ksh-ksh» sound that it was the first note of the song so I would back-cue the record a quarter of a turn and say «One, two», hit my button and the music would play on three as and when I wanted it to be there! As strange as it was, I ended up being really good at this mastered mixing without a headset. I defy you to find another DJ to do what I did ever under those adverse conditions. It was not pretty but I made it work and that is what you do when you are driven and want something very badly!

It was not easy as the only way I could tell when the next song was coming in was by taking the other turntable and as one song was playing I put the volume as low as I could hear until I heard the first «ksh-ksh» and go back a quarter of a turn. From this humble beginning, I was able to build a great reputation amongst my peers and was the one of the first DJs in Boston and New England (and possibly the world at that point!) to mix records seamlessly from one turntable to the next in a manner that no one could tell when I went from part 1 to part 2 of a song, and this was real advantage to get people to come see me play, as normally consumers had to wait for the album to come out to hear the full length versions but I could let them hear these full length versions weeks in advance of their official release with two promo singles by putting them together as one! I did this with Steely Dan's Do It Again, The Isley Brothers' Whose That Lady, The Intruders' I'll Always Love My Mamma and many more!

As I started to do this I became more and more popular! The place was jammed and there were lines going down the stairs and around the block to get in. While I loved what I was doing, it was certainly not an easy task as I would go to college by day and then on my weekends, I would get there early to do my homework, bring my records over to the club, eat there and play records until 2AM. It was lot of work, but I honestly did not mind and never ever complained to anyone. When I graduated five years later, I worked as a civil engineer and I actually broke the record for putting up a precast pre-stressed concrete building, an 8-story, 175-unit apartment building in Westborough, Mass., a suburb 20 minutes outside of Boston. I got it up in only eleven months breaking the previous record for constructing a building such as this. The site manager and head of the construction company said to me, "You're going to be a star! You're going to get to put up a 22-story-building in Worcester, Massachusetts!" But this was NOT great news for me because I was torn and I said to myself, "You know what, John? You don't want to do this anymore. You can't just keep building another building – you love music and miss it when you're not around it! " So, after a little soul searching, I quit and I told my parents that I had been to college, graduated and worked fulfilling my obligations to follow through after graduation as I promised them I would. I figured I'd worked construction making $250 a week so I have done what I had to do, and now, I would make a very big life change and take a job DJing making only $125 a night, but I didn't care because I just wanted to be around what I loved and that was the music. This came as quite a shock to my mom and dad as they did not really know what a DJ's job or potential worth was and frankly, neither did I at that time! As I continued to play and put all my effort into DJing, I got really good, getting better and bigger as my visibility reputation and influence kept growing at a quickening pace. At one point, I had some real issues, as the club that I started at was mad because I was making people dance all the time! They would never sit down to drink, as they would dance all evening going wild taking them up and down on an emotional ride I was the driver of!

The problem was that I made people dance and they never sat down or stopped to drink which was great for me and the crowd but not so good for the bartenders and owners of the club! They said, "You gotta play more slow songs. You gotta play Brandy by Looking Glass to get people off the floor!" To which I said, "Are you crazy? I'm a disc jockey! I make people move and dance!" So we had a little bit of an argument and I said, "Well, if you want to tell me that I have to stop people from dancing, then I can't work here." It was with that comment that I quit and began looking for another job spinning. Not too long after I left I heard of a club that was in need of a DJ. It was way down in the business district of town and I found this club that was a white businessmen's club called The Rhinoceros, which was also located in downtown Boston. They were looking for a disc jockey to play after they stopped serving lunch and dinner, and they talked to me. The owner, Jackie Gateman, really liked me and brought me in. Once again I had the worst system and turntables in the world for a DJ to work on!! I think God must have said, "You know what, John, I'm going to test you all over again and give you even worse turntables than you had before!" These were two AR turntables but at least they had a mix cue system so I could hear one song as the other one was playing with the headset. The drawback was that you changed speeds of the turntable by picking up the heavy metal platter and moving a large rubber band from one pulley to another, to change the speed ! It was at that point that I said to myself, "God, why don't you like me? What did I do to you in my other life to make you find displeasure with me?" (laughs)

It was at this point, faced with yet another impossible challenge, that I used my ingenuity and invented a way to slip cue my records, by cutting the inner sleeve of record album and spraying the platters with a can of silicon to allow me to slip cue the albums and 45s. I cut the album jacket into a circle, sprayed the platter with the use of a can of silicon so the paper would slide as the platter turned thus allowing the record to stay stationary until I let go so the music could start. Voila, the Luongo slip cue trick! Now I realized, if I was playing an album and wanted to play a 45 that usually lasted for three minutes or less, I'd have to run to the other turntable, pick the platter up, change the rubber band, put the platter back, spray the platter with silicon, put the paper down and pick the next record… I had 15 to 20 seconds in between before the next record had to be played ! It was like being on conveyor belt and the articles you had to pack just never stopped coming!! That was torture, but that's also how you learn to be really good at what you do as you realize that no one cares about your obstacles only the results of your efforts! So I took on this club and I turned it into the biggest black club in all of New England. It had three floors of people going wild. It was quite amusing as people would come up and they didn't know why I was able to have such knowledge to play what I was playing. They would ask my black friends who hung out at the booth, "Who's telling the white boy what to play?" And my friends would laugh and say, "Sucker! That boy knows more about black music than you do!" I became the best in New England and people would come up and ask me about the songs that I was playing so I would write them down on napkins and everything I could! My name kept growing, as did my reputation in the field of dance music.

Eventually I started a magazine dedicated to Dance Music and entertainment – it was called Nightfall Magazine and was the first strictly dance music magazine in the world. It was very small with only four pages but the key was that I put a chart of the songs I was playing in there under the caption TC's Disco Dozen (TC was my name because I was leading the city on the dance music scene so they called me Top Cat). This chart or "Disco Dozen" as I called it, was composed of the 12 best songs you could buy and albums that had a least three good cuts on them. It became so successful that the record stores were ordering their records from my track list, the radio stations were calling me to find out what to play and all the public picked it up to purchase their music and came to see me because they wanted to know what songs I thought were great!

I can remember one very special time in my career that I will always cherish. I was playing at The Rhinoceros, it was a miserable, foggy, rainy evening and the club was packed. Somebody came to the front door and walked into the club wearing a white trench coat with the collar pulled up on the neck and accompanied by a local record promoter who walked her in and came to my glass booth. He handed me the test pressing of a new recording he had just received and said to me, "Would you play this? The artist is in the club and she originally comes from Roxbury (a suburb of Boston)." To that, I said "Ok." And preceded to listen to the song that was slow, sexy and extremely long! It was a bit awkward as she was there, a hometown girl and the record promoter was a good guy and friend of mine, so I had to do something. Well, I put it on and just as I anticipated, it cleared the whole dance floor. People just glared at me with arms crossed and that look of disdain. If you are a DJ, you know that look that only an angry owner of a crowd ready to let go gives you when you make any mistake or lose the floor! My boss was there with his friends, right outside my booth sitting at a table and he wanted to show everybody how I could make people get up, dance, move, and do anything I wanted them to do so he hit the side of the glass booth I was in and said, "Take that SH$T OFF!". I ignored him and the audience and wouldn't take the record off. My boss kept hitting the glass but I was not paying any attention to him and shifted my head as if I was previewing my next record to play. It was not good as NOBODY was dancing for 16 minutes and 54 seconds. You have to have a lot of courage to do something like that or an escape hatch from the booth. I tell DJs all the time; "If you're not going to have that kind of courage to clear the floor for something new and groundbreaking that you truly believe in, you shouldn't be doing this". That's because playing it safe and complacency are two of the most deadly downfalls any of them can make. But I knew I was doing the right thing because I thought the record was going to be great and broke some ground, and my old boss, Jackie Gateman, still to this day chuckles when we talk about this. He feels a little bit foolish because the record he was asking me to take off, well, that was actually the first time it was played in the United States and it was called LoveTo Love You Baby by a local woman from Dorchester, Mass., who went by the name of Donna Summer! She was the woman in the club and if you look at the movie Last Dance they have a disc jockey scene where she comes up to the DJ booth to hand her new record to him to play and I was the one in real life who she had someone come up to hand her record to. That was pretty amazing and stuck me as a moment that I had with history that the world may or may not have ever known! My message to people and the DJs in specific are to 'Do what your heart tells you' because sometimes if you follow the pack, you fail as a faceless one of many! I would rather fail miserably being committed to what I believed in than following somebody over the edge of a cliff that you didn't believe in at all!

After that I became very popular as the magazine was growing influence and things were going really well. What started out as a passion was fast becoming my career. With my influence growing throughout the country in not only dance music but music in other formats as well, I started one of the first Record Pools in the country and the world. At that time, there were three record pools in the United States – being in New York, Long Island and Boston – we all started at the same time and we were killing it being totally avant-garde with nothing to go on from the past as this was all new cutting-edge entrepreneurship! We were very strong in our efforts throughout New England. I started the Record Pool out of necessity because at that time I would travel to the record labels to pick up my records for the week and said, "Thank you for the records! I have these other DJs that play in great clubs around Boston that would also like to come up here to get your product…" But they looked at me in horror and said, "No, no, no! We don't want them – they are weird. We don't need any of those crazy people, they're this and that, and they're strange!" I found this shut down and denial a real opportunity to change the way the dance music community did business. You know, you had to be a little weird, crazy and out there to play music only the underground knew at that time! So I asked the labels the question, "Why don't you give me 25 copies of each record that comes in and could be considered dance music and I'll give them out to the DJs to get you exposure and give you feedback?" That's the real story of how I started the record pool. I took this seriously though and always made sure we would tell all the radio stations which tracks from those we received would be great for them to play, give all the retailers the list of what we were going to play that weekend in the clubs, told the black stations what was good for them from our stash, the pop stations what they should play and the rock/alternative stations songs that were palatable for their formats which their listeners might enjoy… I knew this because I was a radio junkie as a kid and listened and absorbed everything from every genre that I could. So in one week I would tell WRKO, the number one Pop station in the market of Boston, "I think you should play I Love Music." Next I would tell the alternative rock station, WBCN, "Why don't you play Dan Hartman's Instant Replay? He's from Rock and Roll and you'll reach the people who remember him." I told Sonny Joe White, the MD at WILD, "Play Give Up The Funk (Tear The Roof Off The Mother Sucker) by Parliament!" As you can see, I kind of crossed all borders and the record pool grew from 25 people to 50 to 75 to 125 to 150 and our influence across New England and soon the entire United States was just beginning but was a major force to reckon with! I started the first National Dance Awards in the country called The Nightfall Magazine Awards. We started at 150 people in attendance at a little club called The Mirage in Boston. Four years later, we went from 150 people to 4,800 people at the Orpheum in Boston! We were responsible in Boston for breaking Village People, Chic, Evelyn Champagne King, Donna Summer and Peter Brown and the first time that each ever performed in the United States was in Boston. Peter Brown, Machine, The Fantastic Four, Loleatta Holloway, Ecstasy Passion and Pain, Odyssey, Dr. Buzzards Original Savannah Band and many more would travel to our city to get the exposure and experience the love of our DJs and fans first hand, up close… People would come from all over the United States and the world to attend our awards because they knew what we were going to do to make them and dance music legitimate on a national scale! We had the support and admiration of people around the globe!

In the 1970s, the first maxi singles were released which was some kind of a revolution in the record industry as they contained new alternative versions of the songs. Can you share your memories about that event?

The first person to do a mix on a record was a gentleman named Tom Moulton, who incidentally was also from Boston starting his career as a record promoter with amazing diverse ears. He was a talented man who made an effort to take a song and extend it by putting the two sides together in an elongated version. He worked on the sound to insure that it met the standards and expectations of the clubs and DJs. He knew great mixing spread out and allowed to breath – it would sound amazing on the larger club systems and the elongated versions were great DJ tools!

At the time I was actually introduced to him, I had my radio show on WTBS FM out of the basement of MIT, a top college in town, which I've referred to before. It was I who originally brought Tom on the radio station and interviewed him. He was very intelligent and passionate and he provided me with his acetates of upcoming releases that he was working on prior to their release to the public. I can say with complete confidence that I was the very first person in the world to play the Grace Jones I Need A Man track on acetate and furthermore to play it on the radio, thanks to Tom Moulton. It was surrealistic for me as my show was on the 15 watts FM called WTBS, which, as I told you, I used to listen to in bed as a kid! You cannot imagine how cool this was and how great it made me feel. I had envisioned myself into the place I wanted to be. It was my love for really great and progressive R&B music and the fact there was no other place to hear that great music but on college radio and The Ghetto, just the BEST program of its type on the radio that brought me there. It was my lifeline to the music I cherished so much and now my show was on the air on WTBS!

My radio show would fortunately come on for the two hours prior to The Ghetto and was a show concept that I came up with which focused on everything about dance music and the dance music scene. I called it The Right Track: The Music That's Making America Dance. I would play everything that I wanted to with absolutely no restrictions or input from anyone in regards to my playlist. The concept and format were all mine and I worked with my engineer Munib who attended MIT and was a perfect fit for me. I played anything that I felt was in the dance realm and I didn't care whether it was as long or short or came from a specific genre – as long as it was good and you could dance to it, I'd play it and give it airtime and exposure!

One day I was dancing at a club in Boston called CHAPS where a fellow DJ, Danae Jacovidas, was spinning and I heard the B.T. Express track Do It ('Til You're Satisfied) come on.I was used to hearing the short version but this time it was totally different as it went from the short version and continued on to the next part to which I thought, "Wow! That's unbelievable! I have to get this !" This was one of my first exposures to Tom Moulton. Tom took these things and mixed them into longer versions. Sometimes he took all the elements that were there and he adjusted the instruments and levels in the mixes taking everything that was originally recorded and making it better by giving them clear separation of the sound that was smoother and really more danceable – he just cleaned the sounds up. It was this respect for him that led me to include his work on my show so often. I still have the original acetate by Grace Jones – I Need A Man that Tom gave to me. The reaction was great and the phones lit up as all the DJs listened because my show was for them!

Now back to the original question in regards to the 12-inch record. The wonderful thing about the 12 inchers is that they finally made notice of and paid respect to a whole genre of music that had been non-existing. Nobody even knew who we were or how they could anticipate the outcome of our early efforts – I will never forget those early days of growth as the best time ever! The odds were against us and that is exactly what drove us to such great heights.

When I first started I went to the local branch that distributed records to everyone in the area. They were called The WEA Branch (Warner Elektra Atlantic) and I asked them for records to play at the club I worked for. To the dismay of my ego they threw me out because they didn't know who I was and did not acknowledge the power of the clubs, at least not yet! What they said to me was, "No, we don't do that type of thing. We don't service club DJs, we only service radio stations. The branch manager, Tony, says that you should get out of here since we only deal with radio!" As I was leaving, shoulders and ego both sunken, I happened to catch out of the side of my eye a big green dumpster in their parking lot way in the back of the building. With my spirits now lower than an airless balloon, I went over to that dumpster and I dived in. And that is how I started part of my record collection! I turned a tragedy into a victory and off I went with two boxes of scrapped records in my little Lime Green VW Karmin Ghia! Who says that you can't turn your scars to stars?

It is precisely because of my bad experiences and start of my journey that when anyone ever talks about feeling really down, frustrated and humiliated, I can relate first hand to their pain! Yes, it happens but if you love what you do, you don't care ! The rejection only makes you stronger and more determined to prove the world wrong! When all of a sudden, I started to see that the impact we had as a dance community on the music industry was becoming stronger and stronger, it was a magnificent feeling and justified all I had gone through!

I was fast becoming an authority in the world of dance music and would call the major record labels saying, "You should do an extended version of this" or "You can make that recording better for the clubs if you make it a little longer". I eventually even told them they should sign records as I did with this group The Philly Devotions on a small independent label called Don De Records out of Philly. Their song I Just Can't Say Goodbye was an example of that and was signed by CBS to Columbia Records. We would start to see the 12 inches come out, with greater frequency. There was Ten Percent by Double Exposure that was mixed by Walter Gibbons, The First Choice and so many others were now coming out as recordings mixed and produced for the clubs and the DJs ! This was such a great feeling of vindication for me and my brother and sister DJs ! We had won the battle for recognition of our craft and to be considered an area of the music business that demanded its own identity and people who could serve it and its needs at the labels.


The 12-inches where made just for us! One song per 12-inches with the right intro, better louder sounds due to the nice bigger deeper grooves and fidelity that rivaled any audiophile production on some of our music! This was brilliant!

Actually the fidelity and sound of a 12-inch at 45 RPMs was even better than the fidelity and sound of a 12-inch at 33 RPMs – because the faster the speed the more information is processed in a short amount of time which means there's a lot more sound and separation you can pack in as the disc spins. The reason you didn't see as many of those 12-inches at 45 RPMs in the beginning was because you could only fit so much music on it and producers were afraid of taking their long songs – that may have been 10 minutes or more – and putting them on a 12-inch because the closer you would get to the label the worst the fidelity gets since the grooves cannot be cut as deep thus lowering the sound level and clarity. It was therefore very exciting to hear all these songs in long form and I knew we'd done something special to raise the level of intensity and acceptance of dance music in general. This marked a breakthrough in dance music formats.

We'd finally gone from the outcasts we were considered to be, managed to rise up under great duress and became a powerful block of people when it came to breaking artists and new music ! Radios would get 3-minute versions and in the clubs and the record pool we would get 5, 7 or even 12-minute versions specifically made to get us engaged in supporting the artists ! We now had tools made for us that benefited our audiences. It was a very inspirational time because we went from being ignored and inconsequential into the vanguard of the future and we deserved the attention because we earned it!

You were one of the biggest names of that era. How did you get spotted by CBS Records and hired as a DJ and re-mixer to contribute to those maxi singles?

What happened was that I was working on promotion of music while also overseeing my magazine (Nightfall), playing on the radio and at the local clubs, and at that same time in charge as owner of the Boston Record Pool. Like I told you, I had the local radio stations on all formats, tied up in the influence that I could use to give them suggestions on what to play, the record labels knew about me, all the retailers knew about me and we had the record pool so we actually controlled the entire city and in fact all of New England. It was at this time that I was approached by two gentlemen, Mark Kreiner (https://marckreinerdp.wordpress.com) and his partner, Tom Cossie, who worked as VP and GM of Buddah Records in New York and was respected for his great taste in selecting music that he could promote and make a success of.

They came to me on a trip I had to New York and said: "John, listen, we would like to see what you think of this record." They gave me the acetate of their new recording, which I listened to and it totally blew me away. It was a stop you in your tracks powerful song. At that time, Billboard reported from the top 10 cities like Boston, Philadelphia, New York, Los Angeles, etc… that made an impact on the dance music scene. All the charts of each city appeared on one page and it listed what the number 1 song in each city and market was. To compile that chart they approached each individual DJ who reported for the city and so they would ask me since I was giving them the chart to represent the city of Boston. Once I heard the track, I made tape copies of the acetate they had given me for all the DJs in Boston. The next week, when the national charts came out, all of sudden the acetate that had been given by these two to see if I thought the record was good came on as Boston Number One ! Everybody was blown away because it only said it was an acetate – it didn't say it was on a label because it was in-between two labels at the time (Buddah and Atlantic) which created a bidding war.

That record brought everybody's attention to our city and ensured us a real place as the powerhouse in the region while showing off what we could do. The song was one you may recognize called Dance, Dance, Dance by Chic and it went through the roof when it was released on Atlantic Records! At this time, Kreiner and Cossie started a company called MK Dance Promotion and they said: "We want you to head our company. Can you come to New York?" I said: "Well, I already spin the records and do a radio show, and my magazine is here so it's quite a power base for me. If you want me to head it, I'll make trips to New York and LA but I'm going to do it from Boston. This is my home and I love my city, so if you want me, I'm doing it from here!" They agreed and started MK Dance Promotion and I ran it in New York, Boston and Los Angeles. We got records in to consider them for promotion and if I liked them, I said: "Ok, let's do it, let's promote it to the clubs and crossover radio!" It was really interesting because we took Dan Hartman and made that great record mixed by Tom Moulton Number 1. Anything that we took on in our company had a great shot of becoming a dance, crossover success because we loved the clubs and radio – a combo that we had in our arsenal, which was unbeatable. We called all top Billboard reporting DJs around the country and I was the very first person to hire actual club DJs and people in the area of dance to turn them into promotion people. They were great, their passion second to none and we always got our records played because we made sure that we picked great records first. If a record was marginal, we turned it down because our reputation and focus on quality really mattered to me!!

One day, Epic came to me to have our company promote a new record they wanted to go through the club system to see if it could gain support at the club to enable them to have a story to go to radio to take it to the next level. I, in my very frank way, heard it and proceeded to say, "No, we can't work with this – it's a good song but not good enough for the clubs." To which the Epic Product Manager, Cheryl Machat said, "What's wrong with it?" I replied to her," Well it's got to be sped up, you've also got to add some hand claps, it needs to sparkle and have some movement and percussion in it if you want to get it to play at the clubs." Cheryl replied, "Can you do it and give us an example of what you are talking about? I don't really understand or know what you're talking about!"

So in my perpetual quest to test my boundaries, I thought to myself without any hesitation or a pause, "Let's jump in and see if I can swim mode." I had a little TEAC ¼" 2-track recorder in my apartment in the South End of Boston and I recorded the record on one side of the tape – you know, it was left or right stereo. I recorded it slower so that when you'd played it at the right speed it would be faster. On one track you could hear the record and on the other side you could hear what I was putting on the tracks. "clap! clap!" I also used a salt shaker go "sshh…sshh.." and I added all types of sounds I had bouncing in my head, using spoons as my tambourines and a melody I hummed. I played it back for myself and thought it was pretty good and apparently, Epic agreed since upon listening to it they asked me: "Ok, would you do this for us?" I accepted the challenge and said, "Well, ok, here we go!". I looked at the back of records and I saw that many of the ones that I loved were recorded at Media Sound in New York, so I said, "Alright, I'll do it at Media Sound!" They sent me tickets, arranged for a limo and got me a hotel to stay at. When I got off the plane at LaGuardia, the car took me to the hotel and then I immediately went to a studio where the manager, Susan Planer, came out and greeted me saying that she had an assistant engineer named Michael Barbiero for me to work with who had not done many sessions on his own but was very good. I was game and said: "Sure, let me meet him!" I was new as well and they were taking a shot on me so what the heck! I met Michael and said, "Look, I want the bass part to be this big, I want it to surround my body! The bass has to hit me in the groin, pointing to my own, and the bass drum has to hit me right in my chest. I also want to do some hand clapping to move the track. Do you possibly know of a percussionist?" He said: "Yes, Jimmy Maelen! He's the best there is!" So he gave him a call and I was fortunate that we got him as he had just finished sessions working for KISS, Roxy Music and The Doobie Brothers and he was always quite in demand. Jimmy was amazing and as I found out in time, the best that ever played. We did claps and all overdubs and mixed this record in one day. I was really pleased as I jumped in and muted the track on the console, choosing the delays and effects as well as the vocal sound and level of the record. In retrospect, I was lucky and comfortable in what I did never once feel the pressure or any intimidation.

The record was delivered to Epic Records, going to Cheryl Machat, and shortly after came out to the clubs and R&B radio. By the time I got back to Boston, Epic had put the wheels in motion to release some advance copies to the DJs in the clubs and from what I was told by those who received the early copies, it went through the roof! I was getting calls from the DJs in New York saying: "Oh, my God! John Luongo, this is a freaking hit!" It was Richie Rivera who called me to tell me he played it at The Paradise Garage and the place went wild as he and Larry played it over and over, back to back and every which way but up! Then I did a follow-up, Pick Me Up, I'll Dance by Melba Moore, and it became a hit too. I had never mixed a record in my life before and now I had done two and both were getting lots of attention and applause! After that I got phone calls from everybody, everywhere from Canada, the UK, France and Spain. The labels were all there too, Capitol Records, Columbia Arista Records, EMI and a host of others as everyone wanted me to produce, mix or head their dance music/promotion and redo their entire dance labels because they were just getting ready to jump in and do it but I was already a pro at it and was running the top promotion company while I was mixing. This was truly groundbreaking for our industry and music in general. The attorney I had, Martin Machat, who happened to be Cheryl's father said, "You know what John? You should do your own label and not work for people because you're a producer and you have much more to offer than to work for anyone. You're not really a business guy per se – you're more of a creative guy." He was representing Jet Records, Ozzy Osborne and Leonard Cohen at that time which was awesome. He said, "Take my advice. Artists will come and go but producers will last forever!" I listened to him and was glad that I took his advice and counsel, which he offered with sincerity and love.

The Destiny album was a major shift for The Jacksons, after the disappointing sales figures of the Going Places album. Could you feel the brothers were under pressure and that your contributions could help them regain prestige?

It's a storybook episode in my life and one that I will never forget – that day when Epic called me into their offices on 54th Street and Avenue of the Americas (6th Ave.), the Black Rock Building as it was called since it was all black stone. I went to the offices of the head of A&R, Lennie Petze, who said, "We have a record here to release but if this doesn't happen, we're going to drop this group. The song has just been released and is not doing that well but only doing fair, just fair. We need you to do a mix that will get it going up the charts and allow us to get it on R&B Radio. Can you do it? " I knew the song and it was not that strong in the form it was released so I knew I could do better. With nothing to lose but a lot of self-imposed pressure on myself, I said, "Yes! I can make this a lot better!" With that I requested the 24-track masters, booked the studio at Media Sound in New York on West 57th Street and went in the studio where my usual percussionist Jimmy Maelen was not available so I had to call another great percussionist in the New York scene named Crusher Bennett who was waiting for me and my direction.

This was one track where I did not utilize the music business production mantra of "less is more" but opted for many overdubs, changing the tempo, adding lots of different flavors of percussion and totally rearranging the recording. I wanted people to know that this was a different mix and feel from the first note on to capture and keep their attention. I used everything in my creative arsenal of new ideas to rearrange the song while taking every risk I could to make it something that was a Wow! Other people of the day might have mixed this track like Tom Moulton, which was to take the tracks that were recorded and clean them up but leave the song with the same structure as recorded, just making it cleaner and more clearly defined, but that was just not me. I was the very first DJ mixer in the world to ever do overdubs on a recording that I was asked to mix and use them along with the original ones in the original production to create something totally new and different.

Before me, whenever you saw a track it would say "Mixed by" and the name of the mixer, but when I started my career and began to grow more confident and experimental in my work, I did more stretching of the craft than anyone before me and required that the labels credited me on my tracks with the caption, "Mixed and Additional Production by John Luongo". I was proud of it because I was going well beyond the traditional mixing of the day. It was with great pride and lots of satisfaction to know that I had added everything you heard along with what was there from the original production and mix the record came out with. This was one special recording since the band was always one of my favorites and to keep them from falling off the R&B charts was of great personal satisfaction to me. The mix came out and turned the track around taking it right back up the charts from Number 80 to top 20 and thus was the beginning of the rescue of the Jacksons starting with the track I mixed which was Blame It On The Boogie by The Jacksons!

Based upon this encouraging positive result, Lennie Petze of Epic came back to me and said, "OK, great job on that. Here's another one – see what you can do with this." It was now on to the next track which they gave me to work on from that same soon to be released album. I went into the same studio fearlessly since I knew I had nothing to lose and the band needed this or it was lights out on their career, at least at Epic Records! This time I was able to get my regular percussionist of choice, Jimmy Maelen, and we did the overdubs and mixed it in the upstairs lounge at Media Sound. With the necessity of making this a club and radio hit, I had to go crazy on it or it would not have done the trick. I hired Syndrums, we added a synth bass, we added every kind of percussion imaginable and I pushed Jimmy Maelen to the boundaries of his abilities. We got an actual brake drum from an automobile that was hung from a metal framework and Jimmy used the handles of his mylar mallets to hit the drum which added a real Caribbean flavor to the track and made it move more. I felt very good that the overdubs I had done were all I hoped for and more, and had a strong feeling when we finished the session that this was going to be something great. There are times when you know you did something special and just can't wait to mix it.
We finished the mix in 27 hours and lots of edits later. It was Michael Barbiero and I working non-stop and taking no breaks, as we had to relinquish the studio the next day. I passed the track in to Epic who loved it and they gave it to The Jacksons to approve – this time that song was Shake Your Body (Down To The Ground). I waited anxiously to see what they had to say, believing in my heart that I changed it for the better and they would love it! Well, they hated it! So much for the ego boost that I was expecting ! (laughs) They couldn't stand it and didn't ever want to release it because they thought it was the worst thing in the world and so on… They felt it totally changed the song and yet that is what I was going for. I felt bad but was ok with it since my job was to be a risk taker and give the client a completely different option and alternative to what they already had. Upon hearing the news I said to myself, "I don't care. My job is just to do a great job to the best of my ability as I see and envision it. I'm not going to do a record and play it safe just to make people happy! I'm going to make myself happy because if I'm happy then most likely everyone is going to be happy too! I know what my job is and accept that I am not always going to do what everyone likes!"

Somehow, through what can only be described as an act of fate, the implausible happened. The tape of the master recording was supposed to be sent to Los Angeles to be destroyed but they mixed up their piles and somehow sent it to Canada by mistake. In Canada a friend of mine who worked for Epic Records there named Dominick Zarfka saw my name on the tape and said as he told me, "Oh, John Luongo! I love everything this guy does! I've got to put this record out!" And he released it. The people in the UK heard it and fell in love with it saying, "Oh, we gotta get this record out over here!" And so the mistake that allowed a record that was never to be released, gained attraction as they next released it in the UK.

The public didn't know it was me yet because on some of the releases in the UK it was released as mixed by "Jim Luongo" – talk about insult to injury! First I was told it was horrible and now they got my name wrong and everyone thought it was another person who was mixing it. By a stroke of luck, a copy of the record came back into the States and ended up getting to Philadelphia's biggest black station called WDAS where the DJ and PD Joe Tamburo (Butterball) put it right on the air, and the rest is History ! (or was that another Michael Jackson album? LOL). At that point retailers and customers started calling the station and their phone lines were exploding. The buzz got back to Epic, which heard what was happening since everyone at radio around the country and at retail were trying to order the record and it really caught them off guard. I mean, they did not know it was out nor that it was theirs !!! When they heard what had happened at WDAS, they called me and blasted me like never before saying, "We're going to sue you! You were told to never let this recording out to anyone, no less release the version of the song you did!" Dumbfounded, I responded, "What are you talking about?" Remember, I had no idea what had happened as I was oblivious and was now in the studio doing the next mix for a client! They thought I had leaked or released the record and they were so angry! I said, "I didn't do a damn thing! I have my copy of the tape and it's right here with me!"

The record was now flooding into the United States and they sold around 250,000 copies of the 12-inches in no time at all – it was exploding! It went on every station including Frankie Crocker's show at WBLS, the number 1 station in New York. Frankie called me and requested I give him the solo of the syndrum sound swell that I used at the top of the recording and said he wanted to play the sound before he announced the WBLS call letters. He said, "Luongo, give me that rising siren sound separate from the track!" You know I did!

About a month and a half later I was in New York with the product manager, Cheryl Machat, who got me involved in everything with CBS Associated in the first place and she said, "I just want to let you know that I got a phone call from Joe Jackson who said to give you this message that he passed on to me. He said to tell you "Thank you for saving my sons' careers!" Talk about being blown away. I had traveled an emotional roller coaster and gone from Zero to Hero in the span of a few short months! This reinforced my belief that you stand behind your work regardless of what others may tell you. You must believe in what you do!
Shortly after this, I went to Los Angeles for more business with CBS on the West Coast. I was really excited as I got to meet the person who did the original producing on the record for the Jacksons and who really was a champion of the group, Bobby Colomby, who you might also remember as the drummer and founding member of Blood Sweat and Tears! He invited me to his home in LA and I went into his house and sat down in this amazing place that looked more like a museum than a home! As we sat there, he said to me, "You see this house? Your work helped buy it for me!" You can't imagine what that meant to me to hear this from him, as he was a man I respected. As for me, I think I made $500 on that record, but I don't care because I made more than money could buy in the sheer satisfaction I received in doing it and as things would happen, it was a great platform that helped launch my career all over the world!

If you do things that you love because you love them, then the right things happen for you. If you expect things from all you do, then it's just not going to happen… From then on, I was on fire with everything I did – not just dance but any format I decided to try my hand at, rock, funk, alternative, R&B, Pop and even Country. It did not matter what they gave me as I was focused on sound and that with sense of song are an unstoppable combination for any format or genre one takes on!

You could not put me in a bag because I would not allow it to happen and every time somebody tried to put me into a specific slot or place a label on me as to who I was, I would get very angry about the fact that somebody would in effect be saying I have limitations in what I do or could possibly do, and I really hated that.

These little self-imposed challenges I put upon myself were the driving forces in my life and caused me to say, "Oh, so you think I can't do that type of song? Well, I'll do it and show you who'll make that decision when it comes to me!" (laughs) The only one who can look at me and tell me what I can't do is me and no one else. It was due to a series of doubters at some labels who, in their jealousy of the attention I received for my work, just wanted to keep me in the dance box that caused me to push on and seek new challenges to stimulate me and keep me hungry and humble. If you never think you are good enough and can do better, you don't wake up cocky just driven and hungry for more!

This was the catalyst that broke my career wide open. My confidence was building and my desire to be Number One in the world was insatiable. I went into each session inspired and driven, clapped my hands to get everyone's attention and said, "We have to create a sound that has never before been heard by human ears!" I think it was my way of saying to everyone that we had to push the envelope and there was no room for complacency in my studio or on my sessions. We laughed like hell but I was focused and the laughter came because of the work we put in to understand our jobs and our goals! I can remember the feeling inside of me that I did not want anyone to be better than me. It was this feeling that gave me a healthy dose of fear and respect before each and every project I approached ! The thought of someone doing a better job or being more creative was a constant source of inspiration!

It was just like that as things began to grow exponentially and the calls from artists were coming in at a non-stop rate. It was not uncommon to get three to four requests a week from major acts and labels to work on their music ! I started mixing everything and eventually got my own label at CBS Records through the Associated Labels side. In the beginning it was a little rocky – the first couple of releases were good and, while not great, should have done something but it was my fault too because I was trying to be creative and do the business simultaneously and that took me away from my creative sweet spot. Then one day, I came up with a project I signed called Your Too Late by Fantasy and that went Number One on the club charts also crossing over to R&B. It was my first Number One on my own label, Pavillion, CBS Records! Next it was Zulu by The Quick that was also a big hit for us at Pavillion and now I was on my way to success as my label was on a roll as well.

In spite of the fact that I was getting hot again, CBS still kept trying to keep me away from doing what I wanted to as far a jumping into other genres of music to expand my repertoire and grow my label into full-fledged legitimate threat that rivaled the other Associated Labels. For instance, there was a rock'n'roller that I was tipped off to by the late great Ellie Greenwich and saw at Catch a Rising Star, and her performance was just awesome. Ellie was going to write for her and that was a big plus since she was an iconic artist and awesome writer. When I told CBS that I wanted to sign her they said, "No, we signed you and your label for a reason and we want you to do dance. We want you to provide us with great Dance Music." They wouldn't let me sign her and it was Patty Smyth who went on to make a gigantic career selling tens of millions of records which all started when Columbia Records released Goodbye To You, her first hit with the band Scandal. Then I found an artist that I really liked named Eugene Wilde, also a very talented man from that I thought was fantastic and wanted to sign, but yet again they said, "No, you don't know black music, so stick with Dance!" In the following weeks, a group came to my office brought there by Steve Salem, their manager who wanted me to put them out on my label. Yes, you're getting the picture now, CBS said "No" again and yet signed them to Columbia directly months later as the multiplatinum act you may have heard of called Full Force who did songs for Lisa Lisa, Samantha Fox and became a multiplatinum act as artists and producers of other artists as well. This one pissed me off to no end!

I was livid, angry and becoming totally frustrated at this point and now just wanted to prove a point that I could do "anything" in music I wanted to do and do it successfully !! Now, totally infuriated, I brought them in two more acts to prove my ears were good for all types of music, not just dance. One record came to me through my attorney, Martin Machat, who introduced me to a manager from the UK who became a dear friend of mine, named Stevo Pierce. I loved this record and I thought it was great and would do really well around the world. I felt this right in my gut and had a great feeling about the song and was offered the song and band for the US and Canada, which I jumped at. Unfortunately, I was forced to pass on it as when I played it for Epic Associated in their New York offices, they didn't hear it. The record eventually went on to sell 8 million copies – the song was amazing and was called Tainted Love by a new group called Soft Cell.
However, it was the last one I wanted to bring to CBS that broke the camels back and had me looking for my exit strategy. It started when I was asked to go to a club by my friend Mark Kamins, DJ at Danceteria – he produced something he wanted me to come and listen to. I dropped in, heard the song on the dance floor and I loved it ! I nearly made the deal to bring it to CBS but I was so afraid they'd pass because they kept saying "No". I told Mark I would do the deal and he brought the artist there the next evening for me to meet. I actually danced with her to the song as well. On Saturday in the evening the artist called me and said she had a firm deal with SIRE and I was afraid of what CBS would say so I eventually spoke to the artist and told her, "Look, you've gotta do what you want and is a sure shot for you. I will fight to get this approved but if you have a firm deal take it as I cannot guarantee you they will like at CBS even though I love it!" It just made me so mad because that was the first track that came out from Madonna! Can you imagine Madonna on Pavillion Records with the clout and visibility I had in the dance market??… After that I said I wanted to quit but they wouldn't let me get out of my contract. Guess they did not want me to embarrass them if I left and signed a hit! I contemplated my next moves for weeks and finally said, "My contract says I can't do records in the United States but it doesn't say I can't do them in the UK!" So I went to the UK and I started mixing over there ! I worked with Visage, Blancmange, Soft Cell, Psychic TV, Blue Rondo Ala Turk, The Real Thing, Nona Hendrix and the Cage, Cabaret Voltaire and many more refreshingly new projects.

At CBS, could you meet and talk directly to the artists? Did you get this opportunity with Michael Jackson and his brothers? Any anecdotes you could share with us, please?

Yes, I got a chance to talk to Michael. I met him through an introduction made by his manager, Ron Weisner, who really loved me and became great friends with me. He always wanted to help me and often had me up to his offices whenever I came into LA and we were more like father and son as time passed. Ron's partner was a man named Freddy DeMann – they managed some amazing talent such as Paul McCartney, Diana Ross, Gladys Knight, Steve Winwood, and of course the Jacksons and Michael when he went out on his own. Ron trusted me totally and knew how hard I worked and under his wing the Jacksons really started to see how good I was in the fact that when they could not get their recordings on a radio in New York because they just did not fit the format, they were now becoming more confident in me and my decisions musically. On one occasion, they were coming into town for a giant performance that was sold out at Madison Square Garden but they couldn't get WBLS to play their new single release! Ron called me as their management saying, "This is an emergency. Please, can you help us, John? Can you fix this record to get it on WBLS to support the live appearance?" to which I said, "Sure! When to you need it?" The response came with a stone cold delivery as he said to me, "In two days!" You can only imagine the chilly feeling running through my veins as I had to book the studio, my engineer and had a day! You know, people and their surroundings always affect me as it makes me feel alive to engage with them. I love to interact with them and make them happy and on occasions sad like they are on an emotional roller coaster. I don't think I'm a genius – but I like to think that I'm somebody who cares about people so much that I can relate to them and what makes them tick and go wild in a club. I was racking my brain to think of what I could do to make this track unique, powerful and not corny in any way. As I toured the clubs in New York, I noticed that all of them were doing this thing with sirens at the time to get the crowds pumped up as if something special was about to happen. I thought to myself that was kind of interesting and there was not one record in the world that had a siren on it at this particular time. That was my thinking so I went into the studio, rented a siren with a hand crank and proceeded next to rent a giant gong setup as you see in the orchestra percussion sections, and those were my chosen tools for overdubs to get my creative juices flowing prior to the session. We also set up Syndrums and I pushed my percussionist Jimmy Maelen to his creative max, which I did each and every time, to make this record into something great. Jimmy was just the best plain and simple. The record I was working on was Walk Right Now and the second I finished it, it was taken from me and rushed from my studio session over to WBLS as a reel to reel and "Bam !" it was on the air before I wrapped up to leave the studio to go home across the street! Both the Jacksons and their management were so happy that they asked me to come to Madison Square Garden and play the siren on stage at their upcoming show that weekend! But I said, "No way! I'll come to Madison Square to see you and I'll be happy to meet with everybody but I'm not the guy that wants to be on stage – I'm the guy who's behind the scenes." I like to be indispensable but in a quiet anonymous way to enjoy the results of my work behind the curtains as others do the performance on stage under the bright lights. Michael Jackson met me and he thanked me for everything. He shook my hand and gave me a thanks and a nod, which I still remember warmly today! We had done it again and I'm glad to know I saved their career and even more proud to say I was actually a part of their history and will be for eternity. I may be a footnote in their massive accomplishments but one without the services of whom Michael may have failed to do Off the Wall and Thriller!

Can you tell us precisely about your work and tasks on your versions of Blame It On The Boogie and Shake Your Body? Did you have free access to the multi-tracks recordings?

Yes, I had a green light to do anything I wanted to remove, replace or redo. If I didn't like something on the tracks that I felt hurt the song, it was always my call to do as I pleased – and I had to have the multi-tracks to work on. Today it's extremely easy to take a soloed vocal and put a track around it that has nothing to do with anything no less the band or their development. People think that these DJs today do great things but, while I respect many, what they do is not always great and at times just bad and horrible. In fact doing a mix with just a vocal takes the soul of the artist and intended song away at times. When any DJ has the ability to ignore the track the vocal was created for, they can easily miss their mark and intention on the audience the song was being created for. I would like them to try and take a track that's conceived a certain way and work within the parameters of that track to allow it to transform but still be great. My belief was and still is that I wanted to make the artist, the band and the song the best they could be without taking away the intention of the band or writer and who they wanted to be. I worked hard and paid respect to the producer and artist never taking a song that's a funky track and just putting sound effect on it like "Bang, bang, bang" to cheapen it just to make it danceable. That's not genius, that's not creative ! In fact that is called talentless and tired and anyone can do that.

I had to take funky tracks, Rock tracks, Pop tracks and make them the best they could be. I took Dude (Looks Like a Lady) by Aerosmith that only had 15 stations playing it and when I was done, over 185 stations added it after I mixed it. It still sounded like Aerosmith and Steven Tyler and to that point even the drummer, Joey Cramer, called me up and said, "That's so freaking great, man! That's exactly what I wanted my sound to be in this song !" Steven Tyler called my answering machine and left a message, "Luongo, you're a crazy Mother F#CKER !… I LOVE WHAT YOU DID ON THE RECORD!" (laughs) The point is that trying to work within the framework of what's there rather than to have the freedom to do anything is a real test of your music knowledge and production skills. You are taking a house that is already built and remodeling it but keeping parts of the original foundation! That takes skill and hard work!

Did Michael and his brothers give you their impressions on your mixes and/or did they directly collaborate with you while you worked on them?

No, because the rule was "Tell me anything you want me to know before hand and then leave me alone!" (laughs) I'm not going to do anything that's going to limit my creativity or make me fearful or taint the final product by receiving input from anyone. If I want to change something, I change it – if I don't like a part and believe that it's not right, I change it anyway I want to. I want the freedom to do anything from creating a new melody or re-arranging the track, to just doing what I do that my heart says is necessary. That's it
Did you remix other tracks for the Jacksons that eventually remained unreleased?

Well, I think my remix of Can You Feel It was released as a promo only and then eventually used to compliment the release of the record. You know, sometimes you did a mix and they had to wait so long to press the labels and press the vinyl so they get it out on white label or tell you wait for the next pressing for your credits to appear. You had to have the paperwork for months in advance or you wouldn't be on there which is why my name does not appear on some recording which I did for the labels. There were some things that I did and I didn't see my credits on, so that's why it doesn't appear everywhere. No big deal as I know what I did and what my efforts did to impact on the success of the artists and their music.

To the best of my knowledge, there were no other tracks that were unreleased on the Jacksons because you couldn't just get me all the time and my mixes were frankly worth their weight in gold to those who I did them for since my name on a label pretty much guaranteed it would at least be listened to and receive serious consideration for play by all the DJs, and this was something I prided myself with since it was earned. At one point, I started to get so busy that it was "First come, first serve" but I had to like the record. You could not pay me enough to work on a record I did not like or believe in. I was pretty demanding when it came to my taste in music and what I did and did not do. I had people literally waiting weeks to get my mix to them so they had a better shot a radio and club play. I would get asked by management to help finish a mix or save something they felt needed a bit more to make it into a hit. On one song for Gladys Knight and the Pips I got the call on Tuesday that they were shooting a video on Friday and wanted my version to be in the video, and then the following week I would get an emergency phone call saying, "Please, we need your help over here to do a song ! Can you just fit this in?" Which is exactly what happened with Don Henley's All She Wants To Do Is Dance. They needed it and wanted it FAST as a follow up to Boys Of Summer. I was like a doctor in an emergency ward where it was always Code Black, on call and prepared to get into the studio to do my job on a moment's notice. I just never seemed to come out that much and found myself sleeping on the couches and in the lounges of American and European studios and eating more fast food and Chinese boxed dinners than ever in my life! (laughs)

There was a time and stretch where I never came out of the studio working 7 days a week for months – I was there day and night and it was an endurance test that not many could handle or keep up with as my engineers fell asleep for breaks but I pushed on with the assistant since there were so many deadlines to meet! The pressure was unbelievable but the variety of the songs and artists kept me engaged and pretty excited and pumped. Thank God for the diversity of my taste as it allowed me to do more varied projects than any other DJ/Mixer/Producer since each new song was always different. One day it would be Queen, Kiss and John Waite and the next it Bobby Brown, Stanley Clarke and Patti Labelle while on another you would get a call to work on a UK band who was one of the strangest and craziest bands in the world called Psychic TV ! I was thinking, "Wow, how great is this?" But I really loved the music and what I was doing. It was a lot of fun but it was also so time and work intense that you didn't really have much of a life per se but it was fine. Now that I look back on it with the objectivity that distance away and time can give you, all I can think is "What a great life I have been blessed to have?" One knows it takes lots of hard work and diligent dedication but without luck as well you have nothing. It's funny how the harder you work the luckier you seem to get!
In 1980, when the Triumph album was released, Michael Jackson had just achieved great success with the Off The Wall album. Did you feel he had already changed status when you worked on the song Walk Right Now?

Yes, I felt that he was becoming more of a soloist and would see in breaking out as an individual. He naturally started to pull away from the group scenario to evolve into an entity unto himself and I felt that he was becoming more comfortable and shined much brighter on his own. He was an unbelievable artist but he was timid as hell! He would come in and look at you timidly and then began looking down as you talked to him. You could sense that he was a fragile individual and it was as you would be like talking to Bambi. He had just started to realize who he was and the thing I thought was so very brilliant was that Quincy Jones was able to act like a father figure to him as well as music production mentor. Quincy did the most brilliant thing in the world to enhance Michaels musical career, which was taking rich, deep, thick, powerful, elegant orchestration and instrumentation and brought it into his songs while he also captured the streets. By doing this, making Michael Jackson not only the Prince of Pop but also the Prince of the music of the streets in an elegant fashion. Quincy Jones was one of my heroes growing up in music industry. His music was clear, funky and powerful – I wanted to be like him because he just knew richness and strings and how to make you feel the music in addition to listening to it. I was doing a seminar and I happened to introduce myself to him, shake his hand once and say to him, "I just want you to know what an inspiration you've been to me and it's just an honor to meet one of my heroes. Thank you so much !" Quincy never took his eyes off me and said, "I know who you are! I want you to know something – I used your percussion ideas from Shake Your Body Down To The Ground on the Off The Wall album. You did an amazing job, young man!"

I was dumbfounded and could only think, "Wow." That's one thing I'll always hold close to me as an inspirational and spine tingling moment in my life and career.

In 2008, The Jacksons Triumph and Destiny albums were reissued and your contributions added to the track list. Did you have your say about it and how did you feel when you heard the news? Wasn't it a fair reward that you were eventually credited, as you should?

I didn't know this was happening because I was so used to not always getting the credit I earned. It was however such an honor to see and know that my mixes were necessary to be on these recordings because they were the ones that the DJs, people and radio liked the most and that was a real high for me. The label was eventually forced to put them out because the public demanded it ! I did thousands of records that were hits. While other people got and still get more publicity than me, it was mainly because they paid for it by getting top publicists and outside promotion teams to help them with their visibility, but I was different and had a completely different attitude. I would always say when everyone asked me to hire a publicist or do more interviews, "I don't need a publicist! My music is my reputation and my best calling card. So let my music speak for me when I'm not there to speak for myself because the real music lovers who matter will recognize my work and the value of it." I believed that the music I did was so special because I took each assignment very seriously and wanted to be the best.
But in spite of the lack of overall press, my greatest reward was and still is to this day when a DJ would come up to me and say, "You know, whenever we saw the name John Luongo on a record, even if it came in Friday night when we were going to the club, we took that record to the club with us, and not have to listen first because we knew that you wouldn't let us down and you had made a record that was considerate of us, and cared about us and our audiences." To me, that was the magic – it's the magic of respect that you get from the people that you really love so much when you always give them your best. They are not fools and know who cares and who doesn't. I never forgot the DJs, I love the DJs because I was a DJ, started as a DJ and will always be a DJ in my heart. It's an honor to know that the people that make you are the same people that respect you.That's where your foundations are and it's very humbling, yes, extremely humbling to be trusted and loved by other DJs who have no agenda or motives but their shared love of music.

Have you listened to the remixes of the songs on the Xscape album by Michael Jackson released in 2014? What do you think about them?

Was that the one with Justin Timberlake singing along with him? Truly one of the worst and most atrocious sacrilegiously horrible efforts to ever come out after the passing of an icon… Let me see if I can say it any better! It had no feeling, no sensitivity, the songs were lack luster and were not good enough for Michael to allow them to be released in his life so why in his passing does that change the quality. If Michael Jackson didn't put it out it was because it didn't have the right energy or magic that he wanted and it is a disgrace that they would take something that he did not believe was worthy of a release and patch it up to make is sound passable at best. All of a sudden when he's not there to fight for what he believes in they find a guy to sing it – you just don't do that to the works of master! Imagine if Van Gogh said about one of his paintings, "I'm not going to put this out as it is not one of my best." And people going, "Oh, look at this – let's sell it for millions!" The best reverence you should pay great people is allowing the last taste of their existence that people have left of them is to be one of greatness. Michael would have hated them and he never would have let them come out. The way they did it is so trivial – it's like we went back in time to the early stage before he was successful. There were a lot of horrible things in those tracks and they let them go in an effort to try to make money of it. He would have done a track that would have been sensitive, that had feeling and emotion in it and would be – well, just wonderful!

What is your secret to achieving alternative versions without altering the soul of the original songs, which indeed characterizes your works?

I always have a philosophy when I am about to go into the studio and work on a project. You have an obligation to first attempt to work with the tracks that you are given from the artist and producer, as it is the end result of their collaborative creativity and the final creation and contains their intent on what they wanted everyone to hear.

You must listen to the music and know your history, which is the biggest part that young DJs fail to do and must do today. We have lost the ability to appreciate what came before us because we have convinced ourselves that what we know now is so much better than what came before us, which is so totally incorrect ! I want to teach DJs around the world, even the ones that are enormously successful, that they will have short careers and will not be here in 3 or 4 years if they don't know how to appreciate what came before them and influenced their world and style. You've got to learn how to write lyrics, how to capture a melody that's complex and not just create mindless soulless "filler".

You've got to put the work in to get the results out. There are no shortcuts and the best secret is to listen to your history, know where the music you love had its roots, study and learn from it, never think you know everything because you never will, and be willing to listen to the people that are shaping the future and those who came before you. That way you can take the best of the past along with the best of what's coming and put them together in a beautiful blend that will yield you a hit track. If they keep doing the same thing they're going to lose the magic and control of their audience. Also if they resist change they will be over quickly as success eludes you if you are not paying attention and continually getting better at what you do. You've got to grow up with your audience and challenge yourself or you are doomed to fail or even worse, remain mediocre. I always told people : "If you are going to fail, the best place to fail and experiment from you are Number One. That way you have somewhere to fall from ! Don't play it safe because safe is a horrible thing – it makes you complacent and complacency is something you can never unlearn or get away from. Your attitude is everything and puts you in the right head to succeed. You must take risks and constantly be uncomfortable to try to find what you must do to make yourself comfortable for it is this process to find comfort that makes you great and stimulates new and exciting things for you. You must never believe that you know everything and never look at your personal history or accomplishments, as they mean nothing to your current of future endeavors." I don't ever look at the records I've worked on or the figures of what they sold. Truthfully, the only time I do it is when I talk to people, like you who ask, but I have so many things that I am doing today and tomorrow that will determine who I really am so there is no time for me to reflect, at least not yet! I have a lot more left to do to make myself happy and grow into the future as a relevant and integral part of it. I am a work in progress and smart enough to know that I have so much to learn and experience which is what makes each day I begin so great for me!

As a conclusion, in your whole discography, where do you put your own contributions for the Jacksons?

With complete confidence and all the respect, humility and honesty in the world I can truly say that the involvement in the Jacksons projects was one of the most important things to me in my career. But the thing to me that's most precious of all is the full confidence in knowing that the group was going to get dropped and had it not been for Epic Records calling on me to work some magic, be daring and do something that was new unique and bold to change their fate, one can only conjecture on what might have been. Epic Records was a great home for the Jacksons and when I finished every mix, they did some wonderful things for them – it was the perfect home for them. They had the best publicist in the world in Susan Blond who was in charge of the department and was super connected with the press. They had the most wonderful promotion team of people and I don't believe that any other label or other company would have done as good as Epic did to bring that record home. Also, my dear friend, Lennie Petze was tenacious and dedicated to doing a great job for them in his capacity of Director of A&R. It was as if all the elements came together in a magnificent moment never again to be recreated that took the best efforts of everyone to make this happen!

One of my greatest realizations is having an appreciation for what I did to turn the Jacksons into something that made them massive and accessible to everyone.They were always great but even the best in this business hit a moment when they trip or fall as consistent greatness is a very hard thing to achieve. I'm just so grateful and also really proud to think that I was the one chosen to be involved and in such a karmic way, the club DJs all over the world was the responsible parties for saving The Jacksons' career! That is a very fitting end to the story of DJ denial and irrelevance, is it now?

It gives me a chill just thinking about it… Those DJs around the world that were considered to be the outcasts, irrelevant freaks and cast-outs of society turned out to be the most wonderfully powerful, resilient supportive people in the music industry and were the ones that actually helped save their career. Now that's one for them and for dance music history!
© 2017 John Luongo Music – Permission expressly granted for use by John Luongo Management, LLC.